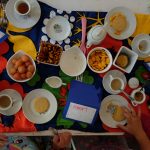 Story
Having a tea party moment ever since my mom delivered several old tea sets from my childhood. The girls designed this late afternoon tea with Marcia complete with "fancy" place cards.
Ingredients
sunshine raspberries
ottolenghi's homemade poppy seed parmesan crackers
gluten free pretzels (because they taste better than regular ones)
goldfish
sleepytime tea
vanilla wafers
Recipe
It's fun to have an assortment of items that appeal to kids and adults. Although, I have nothing against goldfish.