Beautiful Bellport trip this summer. Here are some highlights.
Our friends' sons, Cade and Jackson had never attended a tea party before. I think Heart really made everyone feel at home at "her" tea party with the signage. When everyone realized there was "real sugar" in the sugar bowl the party really got started. I only wish I would have photographed the overthrown chairs once the sugar bowl was empty and the snacks devoured. It really captured the spirit of this foursome that afternoon.
One word: tomatoes. They don't look like that in our backyard. Let's just say that. We used a combo of tomatoes from the garden, the farmstead and a neighbors bounty to make this burrata salad. I had been to this farmstand once or twice before but don't even remember peeking out at the farm. That used to happen to me all the time in New York. After walking down a street 20 times, I'd finally look up and see something amazing.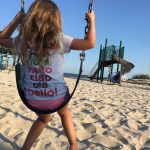 Something really wonderful about a playground near the water's edge.
If you know me, you can imagine my excitement and the excitement of my children when Ruby started creating these insane cakes made of sand, flowers, and moss. Afterall, Heart's favorite activity is "cooking" yucky stuff that you can't eat. I did't get my camera soon enough to capture the first round of huge multi-tiered cakes that were evidently "last weeks cakes" and later got fed to the homeless (aka squashed). The photo doesn't even do them justice. I was seriously obsessed with looking at them.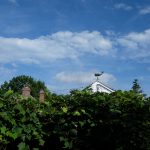 Formerly, Daniel's Muppet motel this dollhouse's contents are so appealing and satisfying to look at, even adults can really get carried away. Although the furniture layout is a bit off, I really liked the way the kids set this living room up. The New York Times laying on the ottoman really does it for me.