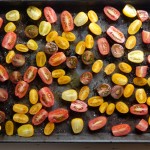 Story
Tomatoes are finally looking delicious again so we decided to do this tried and true recipe that is not at all labor intensive but tastes restaurant quality. Serve it with a salad of fresh greens with lemon-y vinaigrette and a loaf of crusty bread.
Ingredients
two pints of cherry tomatoes (like to use brown or assorted colors if you can find those)
1/2 red onion (small dice)
2 cloves of garlic
4 TBSP olive oil
1 box of penne pasta
1/4 cup pasta water
leaves stripped from a few sprigs of fresh thyme
6 basil leaves (torn)
3/4 cup heavy cream
1 cup freshly grated parmesan
1 TBSP kosher salt for pasta water
Maldon salt
fresh cracked pepper
loaf of crusty bread for serving
Recipe
Preheat oven to 300. Slice tomatoes in half and toss with 2 TBSP of olive oil plenty of salt, and  and pepper. Roast cut side up for about an hour. Bring a large pot of water with 1 TBSP of salt to boil. This is for the pasta. Meanwhile do a small dice on the red onion, smash and mince the garlic cloves. Heat another 2 TBSP of olive oil in a large sauté pan and sauté onion and garlic on medium on soft and translucent but not brown. Add salt and pepper to taste. Add in thyme leaves. When the tomatoes are ready pour them and their juices into the sauté pan with the onion mixture. Lower temp to medium low and add cream to the tomato onion mixture. Meanwhile, cook pasta to package directions. Continue to cook the tomato mixture for another 10-15 minutes or until pasta is done. Add in basil leaves and pasta water, then toss in pasta and parmesan. Taste and season as needed. Serve with extra parmesan on the side.