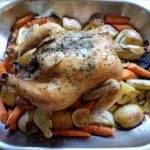 Story
I can confidently say that after many years of cooking it, I've mastered roast chicken. Now I just have fun trying different accoutrements. For this one, I added what I had on hand—fresh herbs, fennel, carrots, and yukon gold potatoes. The fennel and carrots will get deeply browned and caramelized and potatoes—crusty. (We even each the roasted lemon slices!) The end result is rich but bright, slightly herbal, and a perfect weekly dose of comfort food.
Ingredients
1 whole organic chicken
8 carrots (peeled & cut in half or thirds depending on size)
2 fennel bulbs (cut into sixths & fronds reserved)
6-8 smallish yukon gold potatoes halved
2 lemons- 1 lemon sliced, one lemon halved
rosemary sprigs
thyme
half head of garlic (optional)
olive oil
salt
pepper
Recipe
Heat your oven to 425. Rinse and pat dry your chicken, leaving it to rest while you prep the veggies. Slice the veggies (and lemon slices) according to the ingredients list above. They are left in large chunks on purpose. You will be roasting them at a high temp for almost an hour, so they need to be big in order to withstand the heat. Toss them in 2 T. of olive oil and t. salt and pepper and make sure the potatoes are cut side down in your roasting pan, so they get a nice crust. Then chop two sprigs of rosemary, a few fennel fronds, and 4 thyme sprigs and the shove the remaining sprigs of fresh herbs inside the chicken. If you are using garlic, also place half the head inside the cavity of the chicken along with half of a lemon. When you chopped your herbs, you should have ended up with a couple of T. of chopped herbs. These are for under the skin of the chicken and on the outside of the bird. Using your fingers gently lift up the chicken skin and give it a rub down with olive oil then squeeze half of the chopped herbs underneath. Then rub about a T. more of oil on the outside of the bird. Sprinkle with about t. of salt and 1 tsp of pepper along with the remaining chopped herbs. Tie your chicken legs together with kitchen twine and then rest the chicken right on top of the vegetables in your roasting pan (or sheet pan,whichever you prefer). Roast on the middle rack for 40-60 minutes or until the internal temperature reaches 165. Then let the chicken rest for 20 minutes. I tossed the veggies in a swig of olive oil and a squeeze of the reserved lemon half.