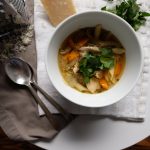 Story
Don't relegate your chicken soup to boiled chicken, celery and carrots. This quick soup incorporates roasted chicken and fennel that adds a caramelized flavor that is worthy of a second helping.
Ingredients
1/2 roast chicken
1/2 box of penne pasta
6 cups of chicken (preferably homemade or high quality bone broth)
4 tbsp chopped herbs  (thyme, oregano, rosemary)
3/4 onion sliced super thin
1 fennel bulb sliced super thin
4 stalks of celery sliced super thin
2 tbsp olive oil
bay leaf
salt
pepper
pinch of red pepper flakes
parmesan & dash of heavy cream for serving (optional)
Recipe
For this one, you can use a rotisserie chicken or roast your own. I usually roast my own and eat half the chicken on salads and the other half goes into this soup. Start by chopping your vegetables. I used a mandoline for mine, because last time I made this I didn't want to stand over the soup. Saute' the fennel, celery, and onion until soft and then add in carrots. Cook until the carrots are tender and the onions are translucent. Add in the herbs, bay leaf, and salt and pepper. Then add in the broth. Cook for about 20 minutes before adding in the cooked chicken (skin and bones removed and pulled into bite-sized pieces). Once the chicken is warmed through you are good to go. I boil my pasta separately so that they don't get too soggy in the soup and add it at the very end to each bowl. Then for adults bowls, I drop in a dash of heavy cream and parmesan and parsley.