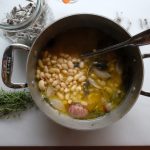 Story
My girls used to love to eat everything. But it seems as of late, they are becoming increasingly more selective. And so it goes… I guess. Luckily I have a few tricks up my sleeve and one of them is beans. Any kind of bean or pea is always a big win and a way to get them to eat protein. I had a few cups of these cannellini beans in the cabinet so I made them for the girls and plan to throw the rest in a tuna/ pasta dish Daniel and I like. They smelled so good while they were cooking I decided to stop working for a little lunch break. That turned into me writing this post. Yes, they were that good and I'll for sure be doing them this way again. Because, yes, they were also that easy.
Ingredients
white beans (2 cups or so that have been soaked overnight)
1 shallot peeled and quartered
1 head of garlic peel-on sliced in half horizontally (so you see all of the little cloves in there)
4 dried or fresh thyme sprigs
2 dried or fresh rosemary sprigs
5 or 6 dried or fresh sage leaves
olive oil (3T or more, don't be shy)
water
Recipe
Soak your beans the night before in water (it should be two inches above higher than the beans). Add more water if you see it drop below that level. Then, when you are ready to prepare the beans rinse them, drain them and then cover them with two inches of water, but this time in the small to medium sized pot you plan to cook them in. Throw in the quartered shallot the half head of garlic along with the herbs and a teaspoon or so of salt and half tsp of pepper. I used dried herbs, which in general I am opposed to. However, beans like dried herbs. Afterall, dried beans and dried herbs are kindred spirits! When the herbs are plentiful I've started cutting them back and drying them for days like today. Give the beans several glugs of olive oil. Don't skip this step. make it count. This is perhaps what sets these beans apart from boring not-very-rich beans. Cook on medium low/ low for 1.5 hours, stirring every once and while. Trust me, you will be wanting to eat this bean broth. In fact, I guess you could remove everything that you cooked in there, but I didn't. That mashy, mellowed garlic clove that cut lose from the bunch was one of my favorite bites. I'll see what the kids think tonight.  Serve with toasted rustic bread slices doused in olive oil and sprinkled with salt.