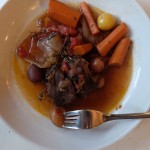 Story
When I think of pot roast, I often think of Sunday supper. But why wait the whole week for this comforting and easy dish? If you keep it simple this one can be a week night meal. I love this recipe because its not at all complicated and reminds me of being a kid. Clean plate eaters club all the way around the table.
Ingredients
3-3.5 lb chuck roast
8 carrots peeled and cut into 2.5 inch pieces
1 lb of small red, blue, and white potatoes washed and left whole
2 onions peeled and quartered
3 cloves garlic
1.25 cup red wine
2.75-3 cups beef broth
one 28 oz can whole peeled tomatoes
4 tsp salt
 2 tsp black pepper
3 tbsp olive oil
2 sprigs rosemary
4 sprigs thyme
baguette and salted butter (optional)
Recipe
Preheat oven to 275. Let your pot roast sit out for about 20 minutes. Generously coat all sides with salt and freshly ground pepper (about 3 tsp salt and 2 tsp pepper). In a 6 or 7 quart enamel or cast iron dutch oven, heat 2 tbsp of olive oil over medium high heat. Brown each side of the roast, then set aside. Add remaining oil to the pan along with onions, carrots, garlic as well as 1/2 tsp of salt. Caramelize the vegetables until they are softening and partially golden. Add the wine and scrape up the bits of goodness off the bottom of the pan with a wooden spoon. Make room for the roast by creating a well in the pan. Add the roast back in along with its juices that collected on the plate, tomatoes, and  beef broth. Throw in the herbs, cover with lid and place on the middle rack in your oven. Cook for 3 hours. Halfway through the cooking add in potatoes and remaining salt. Serve with a baguette to soak up all that rich juice.