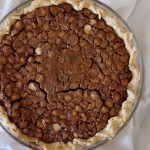 Story
This is a great holiday pie. My mom served it last Halloween for a spooky and delicious dessert that's not just for the kids!
Ingredients
3 oz semisweet chocolate
1/4 cup butter
1/2 cup heavy cream
1/2 cup light Karo corn syrup
3 eggs
1/3 cup granulated sugar
1/3 cup lightly packed brown sugar
3.5 oz macadamia nuts, coarsly chopped
for crust
1.25 cups of all purpose flour
1/8 tsp salt
1/2 cup butter
2 tbsp cold water
Recipe
Preheat oven to 350.
To prepare the crust mix the flour and salt in a bowl. use a pastry cutter to cut in the butter until it looks like cornmeal. Sprinkle water over the mixture and blend with a fork. Press the dough into a ball then roll it out on a well floured surface into a 12 inch circle. It should fit loosely in a 9inch pie pan. trim and flute the edge. Place it in the flag while you work on the filling.
In a small saucepan, combine chocolate and butter. Stir over low heat until melted. Remove from heat and stir in cream and corn syrup until blended. In a medium bowl beat eggs, sugars, until mixed. Stir nuts and pour into pie crust. Bake 40 minutes or until knife inserted comes out clean. Cool on a wire rack and serve with whipped cream.