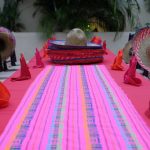 I have very fond memories of Mexican fiestas. Everyone gets cleaned up at the end of a big beach day and settles in for a long evening of fun. If it's a successful fiesta, it'll be hard to say whether it was the kids or the adults who had more fun and you will certainly have a mess to clean up in the AM. But, it is so worth it! Whether you are in Mexico or in your own backyard, creating a fiesta is fairly simple and getting ready is as much fun as the fiesta itself. Here are the top 10 things you will will need:
1.) BALLOONS! You will need many, so an air pump may come in handy unless you have lungs of steel. They don't need helium, either. These are for tossing, swatting, looking festive, and of course sitting on!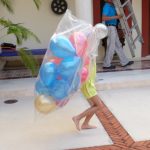 2.) CUTE KIDS! A fiesta is not a fiesta without children. Plus, who would do all the preparations?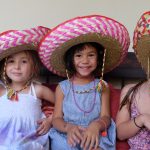 3.) SOMBREROS! If you only have one, that is fine but there must be at least one sombrero at your fiesta.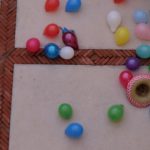 4.) MUSIC! You will need big speakers to play mexican music way too loud. Flaco Jimenez is strongly recommended by Daniel.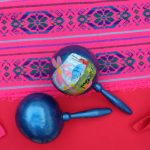 5.) MARGARITAS!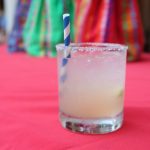 6.) FUN DRINKS FOR KIDS! Young coconuts, limonada, aqua fresca, or little mexican cokes are all solid choices. Don't forget the straws!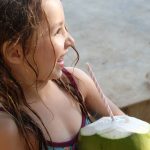 7.) A PINATA! A fiesta is no fiesta without a pinata and a pinata is no pinata without stuff to put inside. And a pinata filled with goodness is worthless without a pulley system or someone creative to tie ropes together and suspend the darn thing, so go ahead and add grownups and ladder to the list.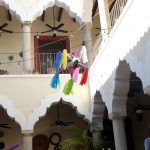 8.) BASEBALL BAT & BLINDFOLD! For the pinata, you silly! And if you can't find a bat, a broom stick works just the same.
9.) CONFETTI! We brazenly put confetti in the pinata itself, but that's only recommended if you are very laid back or throwing this at someone else's house.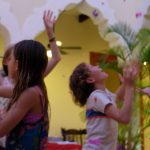 10.) DUROS, CACAHUATES, SALSAS AND OTHER SNACKS!
You are going to need yummy food for your party, and mexican snacks  are a good way to start. Duros are tasty. If you aren't familiar you can get them at mexican grocer. They look like little wagon wheels, but they are really pasta. To prepare them you just fry them in a little neutral flavored oil. They expand two-fold and you just add a little salt, and maybe a lime. Kids love these, and why wouldn't they? They are a cross between a chip and pasta. Cacahuates picantes are super yummy too and they go great with beer.