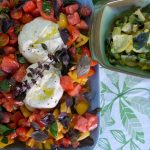 Story
It's hard to mess up this salad. The key is to not mess too much with this salad. If you start with delicious burrata and summer heirloom tomatoes all you need is basil, salt, pepper and a little olive oil.
Ingredients
serves 6
3-4 heirloom tomatoes
2 packages of burrata (which is cream injected mozzarella. Plain old fresh mozzarella works too)
basil leaves and flowers
good olive oil
Maldon salt
fresh cracked pepper
Recipe
Set your burrata out on the counter for a few minutes to come to temp. A few minutes before serving, cut you tomatoes into chunks (about an inch) and sprinkle with sea salt. This will release some of the juices. Gently fold the salt in. Then just before serving tear 6 or so basic leaves, drizzle the tomatoes with olive oil, add fresh ground pepper (to taste) and gently swizzle the bowl around. Arrange the burrata in the middle of a platter. Gently cut the top making sure now to go too deep or all of the cheese will ooze out. You are going for effect and just enough to allow a little olive oil and salt in there. Then surround the cheese with the tomatoes. Drizzle with more olive oil, sprinkle with a few more small basil leaves (that you slap between your hands first). Top with basil flowers and more sea salt.