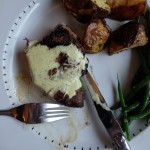 Story
I can't lie, this whole meal was a direct rip-off from a Barefoot Contessa episode. But believe me, there is no shame in my game. Best steak dinner we have ever had and we have had many… and on top of that….I don't even like béarnaise sauce.
Ingredients
(This sauce recipe makes enough for 6 steaks, so adjust accordingly)
Ribeye Steak with Béarnaise Sauce
3 egg yolks
1/2 cup good white wine (such as white Burgundy, Sancerre or whatever you are drinking)
1/2 cup good white wine vinegar (such as Noble) or champagne vinegar
2 sticks of butter (1 cup) melted
3 tbsp chopped tarragon divided
2 tbsp of minced shallot
1/4 tsp sea salt (such as Maldon)
1/4 tsp fresh cracked pepper
ribeyes (as many as you like)
sea salt (such as Maldon)
freshly cracked pepper
olive oil
Recipe
Remove your steaks from the fridge, season them and let them come to temperature while you make the sauce. Season them with a 1/2 tsp of salt and pepper each. I know this sounds insane, but the general rule for beef is 1 tsp of salt per lb, so I keep this trick in mind when I am cooking. Like pasta water and broth, under seasoned steaks are a crime! The seasoning should form a crust almost on both sides. Drizzle each side with a little olive oil as well. Set aside. Start heating you grill to as high as it will go. Now, for the béarnaise, put the shallots, 1 tbsp of tarragon, salt pepper and vinegar in a small sauce pan and cook until reduced to just a few tbsps. Then cracked your room temp yolks into your blender along with the mixture. Blend. With the cap off add the melted butter and continue to omit, add in the remaining fresh tarragon now and mix some more. Let the sauce sit in the blender for up to an hour while the steaks are cooking. To reinvigorate it, Ina suggests adding a tbsp or so of the hottest tap water you have a mixing to combine. Worked like a charm. This is Daniel' strike to really delicious ribeye steaks, I don't do the outside grill!
When the grill has reached 650 degrees (or however high you can get it) throw the steaks on and close the lid for 3 minutes, flip the steaks and let them cook for 3 minutes again with the lid closed. Then turn the heat off and repeat the same thing. Disclosure: This is for 1 really thick and one kind of thick ribeye), and we like ours Medium and Medium well, so if that doesn't make sense for you then adjust the time.