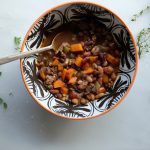 Story
My mom has always made five bean soup, and it has gotten better and better over time but I've never asked for the recipe. I sort of don't need to anymore. I think I have an idea of what she does without having to ask. Simpatico. Of course she will probably correct me…so before she does… I think she uses ham hock instead of sausage and definitely all chicken broth instead of the half veg/ half chicken.
Ingredients
3 links Italian sausage browned
1 lb mixed beans (soaked)
1 qt. chicken stock
1 qt vegetable stock
6-8 carrots sliced  in half moons about 1/3 inch thick
2 small onions
4 celery stalks
2 cloves garlic
1 tbsp tomato paste
5 small whole peeled tomatoes crushed with hands
4 sprigs of thyme leaves chopped
2 sprigs of oregano chopped
1/2 tsp ground cumin
salt
pepper
2 tbsp olive oil
1 tbsp butter
chopped parsley or buttered croutons make a nice garnish
Recipe
If you forgot to soak your beans overnight. then put them in a pot, cover them with water and boil them for three minutes. Cut the heat and let them sit on the stove for an hour or so. Drain, rinse and set aside. Dice your onions and celery. Add the olive oil and butter into enamel pot over medium heat and saute' the onions and celery until they are translucent and soft seasoning them with salt and pepper. Add in garlic, bay leaves, cumin, thyme, and oregano and stir. Add your broths, tomatoes, and beans. Cook for 1 hour. Check for seasoning and then season with more salt and pepper as needed. In a skillet over medium-high, add a splash of olive oil and  your sausage (casings removed). Break up your Italian sausage in the pan so it can brown. Once it is browned, drain the sausage over paper towels and add it along with the carrots to the soup. Cook for 1 hour more. Check beans for doneness. I prefer mine a little toothsome, but obviously no one wants to eat dried five bean soup, so use your best judgement. It coudl tak eup to 2.5 hours depending on the beans you select. I love this recipe because it makes enough for our dinner, plus some drop off to a friend, and there is still enough for everyone to have it the next day for lunch when it tastes even better.