Our recent trip to Japan (more on that later) was our first time to leave the girls for more than two nights. We all survived. Surprisingly even their grandparents who babysat the whole week we were gone. Missing them so much, I got slightly obsessed with finding little gifts for them which included a begrudging trip by Daniel and of course willingly by me, to Kittyland the four story Hello Kitty megastore.
"Dear Daniel" (who we learned  is the character that married Hello Kitty) aside, this adorable graphic stationery found at various Kyoto stationery shops along the way is still one of my favorite souvenirs. These little guys are just the kind of short & sweet blank notes we need on hand to write a pen pal, to attach to birthday presents, or to use as thank you cards.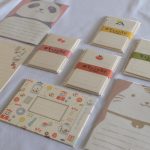 Giving and receiving an occasional sussy is a tradition in my family. And although, the term really means a gift given for no reason, it has evolved to mean a just a "little something". So for example, you could give a sussy on top of giving a holiday gift. The recipient might look surprised by receiving two gifts and you would then say, "its just a sussy". Or in this case, a souvenir from a trip for an unsuspecting recipient like a teacher. I loved this green tea packaging. It was too cute to pass up and paired with the handmade paper boxes filled with matcha green tea sweets inside, they make a lovely afternoon break.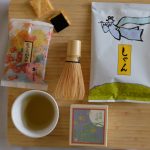 And for the Heart and Heron: these textiles silk screened with doodles of traditional Japanese sweets also known as Wagashi in lieu of the sweets themselves.