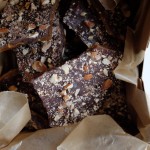 Story
Every year my mom, sister, the kids and I all get together to do a cookie bake before the holidays. The kids make a mess, drink hot apple cider, and eat way too much sugar. We boss each other around, laugh, and also make a mess. There are a few heirloom staples that we do each year and then a few newbies that we try out. I've been having almond toffee for as long as I can remember. Most years my mom makes this in her trusty electric fry pan, which she also travels with. (She once flew to Brooklyn to fry chicken for my sister and I plus 6 or 8 of our closest friends. Hey, sometimes a girl just needs her mom plus I think the chicken made us more popular). Anyway, this year we didn't have old trusty so we used a Le Creuset instead and it worked out pretty awesome. Toffee is tricky to make. You need to have a working candy thermomater. You should also have 2X the butter and the sugar on hand in case the first batch goes too far. This is an update on the old recipe.
Ingredients
1 lb of butter
2 cups sugar
1 tsp of sea salt
1 ½ cups of salted dry roasted almonds roughly chopped (you should be able to tell this is an almond (The bigger the chunk for this part the better in my opinion)
1 cup plain roasted almonds finely chopped
butter for greasing
2 packages of dark chocolate baking wafers
Recipe
Using an enameled cast iron casserole (it needs to be large and deep enough to use a candy thermometer. Melt butter and sugar together over medium high heat stirring until the butter is melted only. Then turn the heat down to medium and (very important) stir only occasionally to ensure even cooking. Instead of stirring, I turn the pot to help with the even cooking thing. Do not scrape the sides ever. Using a candy thermometer (that you know works) monitor the temperature. When the temperature reaches 285 if the mixture looks evenly caramel colored throughout and doesn't appear grainy (and hopefully doesn't smell burnt) remove from heat and quickly stir in the chunky salted almonds. Then divide evenly in your two buttered baking sheets. Then immediately divide your chocolate over the top of the pans. Let sit for a minute or so until they appear to be soft, then using a warm knife, spread the melted chocolate like you are icing a cake. Then sprinkle the finely chopped almonds over the chocolate before it starts to harden. Let sit or chill in the refrigerator for several hours. When you are ready to serve, just use your hands to break the toffee into shards and serve.