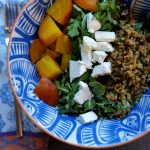 Story
This salad feels like fall with the roasted golden beets and toasted pepitas, but is light enough for summer. After returning from our trip, eating super heavy foods felt like a chore. So Daniel and I had this for dinner one night last week and didn't feel at all bad about having dessert. For the kids: I served the components individually bento-style.
Ingredients
one bunch of golden beets (3 or so)
1 ½ cups mixed grains (such as quinoa & bulgur)
3 cups micro arugula
½ cup of raw pepitas
½ package of Humboldt Fog goat cheese (or any herbed goat cheese will do) cut into small ½ cubes or crumbled… whatever works
zest and juice of one lemon
¼ cup chopped Italian parsley
1/8 cup chopped fresh oregano
2 tbsp chopped thyme (or whatever else you have on hand. Basil or mint would have also been lovely)
½ cup of olive oil (divided)
sea salt
fresh cracked pepper
Recipe
Scrub and roast 3 golden beets at 375 for 45 minutes, then cover each individually in foil and let them sit out to slowly cool and steam the skin off a bit. Once cooled, remove the skin. It should just rub right off, but if not, use a knife to help coax it a bit. Slice your beets into 1/2 inch slices (slice the beet once lengthwise then every half inch across). Cook your grains to the package instructions. I used a quick cooking mix of bulgur and red quinoa that I got from Central Market. It was really tasty and only took ten minutes. Meanwhile, chop your herbs and add them to a small bowl to whip up your dressing. Add the juice of one lemon as well as the zest plus plenty of salt and pepper to taste. Then whisk in olive oil slowly until the mixture looks about right. Save a tbsp of oil for the quinoa and one for the pepitas. Now over low-ish heat, toast the pepitas until they have a bit of a suntan and you may even hear them starting to pop and dance around in the pan a bit. Remove them from the heat and splash a bit of your reserved olive oil on top then sprinkle them with sea salt. Add the remaining olive oil, chopped parsley, and toasted pepitas to your grains and toss. To assemble, grab two large bowls and toss the arugula and a bit of dressing in each. I dress it a little more than I normally would because the other stuff soaks it up later. Scoot the greens to one side. Add beets to one side, grains to the other and top with goat cheese.