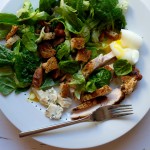 Story
Blue cheese, caesar dressing, and a runny egg? Yes, please.
Ingredients
serves 2-4
5 cups or so of greens (we like a mix of spinach, arugula, and romaine, but it's all good as long as they are a bit hearty)
6 slices of cambazola (blue cheese/brie hybrid) but any kind of blue would work this one is very smooth and milder than most
1 soft boiled egg per person
3 slices of stale bread
olive oil
4 slices of bacon
sea salt
pepper
1/3 cup homemade caesar dressing
optional : 2 chicken breasts flattened with a meat mallet  (about 1/2 inch thick) season with chopped herbs (such as thyme, oregano, and rosemary), salt, pepper and olive oil then grilled
Recipe
Preheat oven to 325. Cut off crusts and cube bread into 1 1/4 inch cubes. Toss with olive oil and salt and pepper and place in a single layer on the baking sheet. Toast them until golden brown (flip once). Just keep an eye on them. Some bread cooks faster than others. Generally these are done in about 15 minutes. Meanwhile, make your dressing. Cube bacon and fry it in a pan. Drain and set aside. If you are grilling chicken for the salad, then now is the time. When you are nearly ready to eat, soft boil, poach, or fry your eggs (whatever your favorite preparation of a runny egg is). Toss your greens with your dressing, add a pinch or salt and pepper, then assemble your salads by distributing all the remaining ingredients evenly!