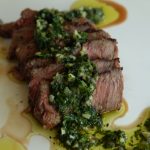 Story
Right after Heart was born, Daniel and I went to a restaurant in Houston called America's. America's is a South American style restaurant with over-the-top Vegas-style interiors. They do alot of things well, but the real reason to go is the chimichurri and plantains chips, which they'll serve when you first sit down. The crazy thing is, I usually eat so much of this I actually have no room left for a proper meal. It's why we can't go there very much! At any rate, I came home and immediately started tinkering with chimichurri (sans the plantain chips, its not as guilty). Every recipe is different…some use vinegar, some don't. Some use oregano, some don't. Mine uses lemon and vinegar and equal parts parsley and cilantro. Every ingredient in this recipe is absolutely necessary. It won't be the same if one is deleted. The proportion you choose to use, is up to you and totally subjective but the absence of something will leave you worse for the wear.
Ingredients
handful of Italian parsley
handful of cilantro
3 large cloves of garlic
1t salt
1/2t pepper
pinch red pepper flakes
1T white wine vinegar (I like Noble)
juice of 1 lemon
½ cup of olive oil
Recipe
dd all the ingredients into a processor. Pulse until its about a bit chunkier than the consistency of pesto. Pour into a bowl season with salt and pepper and add olive oil until the mixture is enrobed in it. When you get a spoonful of this, it should be heavy on the oil. Once the consistency and taste are right. Let it sit at room temperature for an hour before serving. Serve over steak, chicken, vegetables, pasta, potatoes, it really doesn't matter what the conduit is.