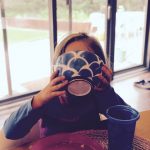 Story
There used to be this bakery off the 6 train stop at Lexington Avenue and 69th street right by Hunter College. It was a few blocks from the French shirting shop, Equipment on Madison Avenue, that I worked at throughout college. It was a French bakery and I can't remember the name and unfortunately it isn't there anymore, but each week they would serve a carrot ginger soup that I am pretty sure was more cream and butter than it was ginger and carrot but it was so delicious and served with a crunchy baguette. I couldn't resist. They also had an amazing chocolate chip cookie, but I digress. When we had a nice crop of very flavorful carrots come up all at one time, I decided to take it there and try to copycat this recipe. I have made alot of  carrot-ginger soups and this one was by far the best. I finally came close. I served the girls before I pureed (having been burned by them not being able to decipher what they were eating before) and when it came time for seconds…well, no one seemed to care.
Ingredients
3/4 stick of butter
1 onion
3 garlic cloves chopped
1- 3 inch piece of ginger grated
1 tbsp tomato paste
1/4 cup of cream sherry
1 cup cherry tomatoes chopped
6 cups of low sodium chicken broth
3 cups of rainbow carrots diced (regular carrots will work too)
1 1/2 tsp salt
1/2 tsp freshly ground pepper
1 tsp sugar
2 tspn sour cream
1/4 heavy cream
Juice of half a lemon
Recipe
Heat butter in a large emamel pot. Add onions and saute for about 10 minutes until lightly brown stirring occasionally. Add tomatoes and cook for 5 minutes more.  Then add the garlic and ginger. Cook for 2 minutes. Add tomato paste and cook for 3 minutes more. Then add sherry scraping up the bits from the bottom of the pan. Then add in your stock, salt, pepper, sugar, and carrots. Simmer with lid half on for 30 minutes. If you are me, remove the kids portions first. Then puree and add in cream, lemon juice, and sour cream and check for seasoning.