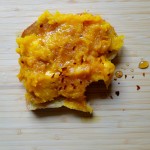 Story
The girls love squash of any kind….and so do I. So when autumn rolls around I stock up on all the ones I can't find most of the year. Delicata, kobucha, and my newest obsession….buttercup. Since the four of us can't polish off a whole squash in one sitting I contemplated what to do with the leftovers. This is what had for my lunch break Thursday. Tastes like cake.
Ingredients
roasted squash
1 buttercup squash (halved, seeds and pulp removed then slices into 2 inch wide wedges)
butter
cinnamon
sea salt
pepper
honey
water for the pan
toasts
slice of your favorite bread (I used plain old buttermilk bread, but "seedsation loaf" from Central Market would  be even more delicious. Whole Foods has a version called "seeduction loaf")
butter
hot chili flakes
honey
sea salt
good olive oil or walnut oil (optional)
Recipe
To prepare the roasted squash which is awesome on its own: preheat your oven to 425. After you have halved and removed the pulp from your squash, cut it into 2 inch wide wedges. Rub each piece (flesh side only) with a dab of softened butter. Place the wedges in a glass casserole dish or baking pan. Sprinkle each piece with salt, pepper, and cinnamon. Drizzle each piece with a little bit of honey. Then add enough water to cover the bottom of the pan. This will keep the skin from getting too charred and keep the squash a little more moist. Roast the squash for 40-45 minutes or until soft. To assemble the toasts, scoop out the flesh and use a fork to press the flesh from a wedge or two onto a slice of toasted /buttered bread. Sprinkle with sea salt, red chili flakes, a drizzle more of honey and if you feel like the squash is a bit dry or really love olive oil like me, drizzle a little of olive oil or even walnut oil on top for good measure.