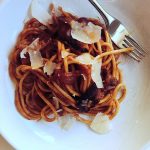 Story
The recipe for this dish is almost always the same formula, Bacon+Tomato+Onion=Pasta. The only things that really makes this version stand apart is the garlic oil. We go in and out of pasta moments. As I was looking through my recipes, I realized I had never posted this one. The last time we made bucatini this particular way was probably when I took this photo. Which has been years. "Bucatini and Bubbles" was what I was going to call the post. Because I guess we had let the girls run lose outside with bubbles and then ate pasta for dinner. Bucatini is delicious because its unique ability to be slurped but also stow away the sauce so that in every bite you get a little tomato, onion, bacon, and of course garlic. I think I'll make this again tonight. The oil is a great way to mellow out garlic and add its essence to just about anything you want all week long! Roast vegetables, rice, baked eggs, bread, you name it.
Ingredients
Pasta and sauce
1 lb bucatini
6 oz. guanciale thinly sliced and cut into 1– 1 ½ inch long pieces (you can also use pancetta or bacon for this…you can't go wrong in this dept.)
1 ½ cups strained tomatoes
1 TBSP tomato paste
1/8 cup white wine
1 tsp red pepper flakes
1 red onion thinly sliced
1 TBSP olive oil
roast garlic oil
10 cloves of garlic
½ cup olive oil
Recipe
Place garlic and anchovy in a ramekin and cover with olive oil, bake at 350° for 20 minutes until garlic is golden. Remove from oven. (If you don't feel like making roasted garlic olive oil, you can skip this part and just use plain old olive oil in its place. Put your pasta water to boil, add plenty of salt so the water tastes like the sea. Meanwhile, pour 1 TBSP of oil into a large skillet add guanciale strips and cook over medium high heat until guanciale is browned and starting to crisp. Remove guanciale, add one TBSP of garlic oil plus add onions to the pan, season with salt and fresh ground pepper and cook until soft and nearly translucent. Add tomato paste and red chili flakes. Let that cook for a minute or two add white wine and scrape down the brown bits from the pan. Add tomatoes and two more TBSP of garlic oil along with more salt and black pepper. Cook for 10 minutes, your pasta will most likely take that long so now is a good time to throw that in. Once the pasta is al dente, strain it and add it to the pasta sauce with about an 1/8 cup of reserved pasta water. Toss. Add guanciale back into the pan. Heat everything through making sure all the noodles are coated. Grate or shave plenty of fresh Parmesan over the top.