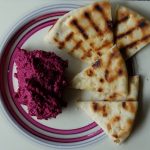 Story
Evidently it is Spanish tapas week over at the Heimbinder's. Initially I got started thinking about tapas because I am reading a lovely book called Everlasting Meal. Its chapters are filled with process-centered  kitchen ritualistic content dotted with a few simple technique driven recipes. The one that stood out was a five ingredient Tortilla Espanol. I had been dying to make it since I read the recipe. Then, feeling a little inspired by Spain I started thumbing through the pages of the one of my old cookbooks and decided to try out this beet and walnut dip first since I happened to have a bunch of beets on hand. I served it with warm pita for  lunch along with a green side salad and we ended up having the tortilla for dinner. The key to both was really good olive oil ( I used Portuguese) and serving the tapas at room temperature.
Ingredients
beet walnut dip
1 lb of beets
1 cup walnuts
1/2 cup olive oil
Maldon sea salt
Juice of 1/2 a lemon
2 tbsp tahini
1/4 cup water
Recipe
Trim, rinse and scrub your beets well to make sure all the grit is off. Dry them and then rub each one with a bit of olive oil and sprinkle with salt. Roast the beets for one hour at 375 digression a baking sheet and then remove from the oven, wrap each one in foil and let cool. This allows them to cool and steam a bit, making peeling them easier. At that point the skins should just rub off. Meanwhile toes the walnuts in a dry pan until fragrant. Once they have cool, pulse them in a processor until they are finely chopped. Then chop your peeled beets and add those to the processor. Process until they have combined to create a thick paste. Add in your tahini, water and olive oil and pulse until mixed. Then transfer to a bowl and fold in the lemon juice and salt to taste. I left the dip covered on the counter for about an hours to let the flavors meld. Then I served it with warm pita that I grilled in a hot dry grill pan then drizzled the pita slices with olive oil and sprinkled with sea salt.