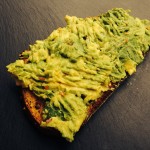 Story
For a few years while I lived in NY, I had an apartment on Mulberry Street just above Canal. (The bathtub was next to the kitchen sink!) Needless to say eating out was very much a luxury in those days. Lucky for me, Cafe Gitane was just up the street and had this dish. It's so much more than toast… it's a meal. I've been recreating it ever since I upgraded my kitchen to one sans the bathtub and we still eat it once a week. Heart and Daniel are fans.
Ingredients
Serves 2-4
1 ripe avocado
1/2 tsp flaky sea salt
1 tsp good olive oil
1/2 tsp red chili flakes
juice from 1/3 of a lemon
4 pieces of dense, seeded bread
Recipe
Slice your avocado in half and spoon both halves of the avocado into a bowl. Mash it up a bit, leaving big chunks. Add your lemon juice, olive oil, salt and red chili flakes. Use your spoon to incorporate.  Toast your bread. Divide the avocado mixture among the toast pieces and smear it on with a fork or spoon. Finish each piece with a little more sea salt.