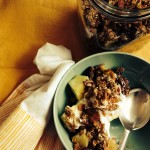 Story
Before I was married a girlfriend and I went to Bikini Bootcamp in Tulum at a place called Amansala. The emphasis was on exercise, not food.  But the food was healthy and delicious (either that or we were just starving!)  Every morning before yoga they served coffee/tea pineapple, yogurt, and this amazing granola. I remember asking the hotelier what the story was with that granola. She said that a local lady made it for them and that it had amaranth in it. That's all I got…I've been trying to recreate it for years.  My version gets pretty close and has some unexpected partners for the amaranth.
Ingredients
Amaranth Granola
1 cup rolled oats
1 cup quinoa flakes
½ cup quinoa
½ cup amaranth
½ cup pecans (some broken and others whole)
½ cup coconut flakes
½ cup sunflower seeds
¼ cup coconut oil (melted)
¼ brown sugar
3 tsp agave nectar
2 pinches cinnamon
1 tsp flaky sea salt
Pineapple Yogurt Parfait
1 cup cubed pineapple
1 small container 0% Fage' Greek yogurt
drizzle of honey
3 tbsp amaranth granola
Recipe
Preheat over to 300. Put all of the granola ingredients in a bowl. Stir until all of the ingredients seem to be coated with the oil. Add mixture in a single layer on a parchment lined baking sheet. Cook for 30 minutes stirring a few times during cooking, being careful not to burn nuts.